I think in intersections & "Convergence Zones."
What does that mean?
I often wonder (in my own life) and when I work with individuals and companies in the money, economics, and finance realms, what is converging and intersecting?
Here is a series of questions I find myself exploring in my consulting sessions:What is coming together from multiple directions to eventually meet in one's life at points that I  call  "life intersections?"  "Are these life intersections creating a natural, expansive, and energetically positive pattern?"  …OR, on the flip side, "Is the intersection of one's energy, time, and money producing non-innovative, and life sucking output?"
In other words, "Does the person (or company) I am working withexpand in their capacity and creativity because of the way energy, time, and money are intersecting…or visa versa?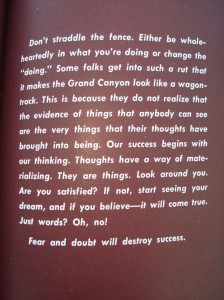 I am naturally drawn toward these questions.  They give me energy because I lean (& have been formally trained) toward seeing life through intersecting systems & patterns.  Patterns tell a story across time.  Patterns are seen when people look up and out AND in and through. When people ask questions of their larger personal landscape, they are rising above daily details…and entering the realm of vision and dreaming.
Both perspectives are very important in money conversations. Because without seeing patterns, one does not know what they are creating with choices & decisions that stream through one's daily life. Money conversations must have an element of looking into the detail…while stepping back and away to see the broader -bigger picture.If both "near and farsightedness" are not employed, the money picture of one's life is foggy and murky, feeling like enslavement rather than freedom.
So, I round back to explaining why I inserted the quote above.  I took this picture from Merle Norman's journal.  Her REAL journal.  I was able to hold, touch, and read the smallish-brownish journal while staying at the beautiful Rancho Merlito, in Tuscan AZ.  Rancho Merlita was Merle Norman's desert get-a-way. (the famous cosmetic, makeup artist of the 1950′s- 1960′s)  Merle Norman's words remind me to think expansively…They also remind me to seek the counsel and help of others when I become aware of huge ruts (like the Grand Canyon) as she says in her journal.
I was fortunate enough to "accidentally" (yeah right, accident?) come across Merle Norman's beautiful Rancho Merlita on one of my travels through the southern border states of the United States.  The innkeeper (Patti) became aware (because she is super intuitive and caring) that I was passionate about building & crafting businesses. Patti also knew that I was en-route to see my grandmother…to continue to learn about my generational legacy…and super stoked to find out more about the women in my family.  And to top it all off, Rancho Merlita represented so much of what I love as I consult with clients who are crafting careers and businesses that have far reaching domestic and global influence – much like Merle Norman did in her era and beyond.  So, all of these details, converged into Patti offering to let me read Merle Norman's journal while I comfortably settled into the Ranch (which is now a beautifully operating Bed & Breakfast.  The Ranch has earned multiple awards for the charm, the history…due in large part to Patti's hospitality, of course!)  Merle Norman wrote her journal primarily to inspire and communicate to her employees. The journal is packed with at least 50 vignettes/entries of Merle Norman's words, thoughts, and overall philosophy of business and life.
Reading Merle Norman's words again this morning reminded me to continue to look for the patterns of my own life.
I could feel the convergence of history, energy, and stories when I stayed at Rancho Merlita.  I knew – again – that I was made to be with people across time as they guided money and influence to craft their life.  Even my travels bring about the opportunity to hold a "journal written by a Cosmetic Icon from another era" and knowMerle Norman had something to say to me as I work with folks who are in various stages of creation and money guidance.
A business woman from 60 years ago with a huge cosmetic empire had something to say to me!
So, as you end 2013, do not underestimate what patterns arise in your life.  Take a step back at the timeline, history, and repeated intersections of your money story and life…AND ASK…Is Time, Money,and Energy working in concert with one another?  OR, are there some areas that are stuck and in need of a shift?
It's never too late to ask the questions that expose your current reality and future trajectory.
Find out more about my work here.
With gratefulness,
Hillary