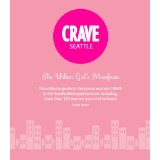 Numbers Matter. 
Life Details Matter.
Numbers + Life Details = Money Matters.
PAY ATTENTION to Exclusive Offers: First 20 people to book an Excela three-pack in 2010 receive…
1) CRAVE Seattle 2) 50% off First-time Excela Three Pack.  Click HERE for deets!
Why.  Because.  20 is the first two digits of the year. 10 is the total of my page number = 10 (3+2+5). 
2010 Matters. Crazy, Meaning-Making Calculation?  Welcome to my process.   
 ——————————————————————————–
What Andrea says about Excela's 2010 Services!
Working with Hillary was so refreshing! In a world where most people are trying to sell you something, Hillary's only intent is to help you get to where you want to go financially. Not only does she have a firm grasp on financials but her insights on issues and opportunities are incredible.