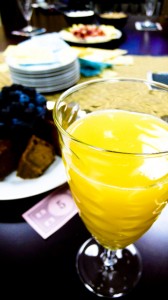 10 Women, 10 Drinks with a Twist of Financial Savvy!
What: 10 Mimosas with 10 Women!
When: Oct. 2nd OR Oct. 9th ~ Join for one or both
Time: 10:00 a.m. – 12:30 p.m.
Where: First West Building, Lower Queen Anne, 200 1st Ave WEST #400, Seattle, WA, 98119 (Directions and Parking)
Who: Excela's Money Guide and Financial Coach, Hillary Augustine, MA, MAC
 ——————————————————————————–
What People are Saying:
"Money and Mimosas" was a blast!  Where can woman get together to talk about the heart issues behind money, our fears, our concerns, our goals?  Hillary provided a beautiful space that felt safe enough to speak about the topic of money.  Not only was it fun with the ladies, sipping on Mimosas, but it was a great time to meet others and share in our similar experiences.  I hope to be a part of the next "Money and Mimosas!" –  Talitha, Mental Health Therapist
"Money & Mimosas" was wonderful!  Hillary is a very personable speaker with an infectious personality…She's fun to listen to and watch because one can tell that she is passionate about the subject of money.  It would be great to meet again.  The combination of education with the focus on how to create a healthy relationship with money is a great resource. – Racheal, Professional Bookkeeping Services
 —————————————————————————
Waiting for What? Pay below.